All AUPBA approved paintball fields hold players' safety as their utmost priority and accordingly will issue you with purpose-built equipment.
 At a minimum, you would require the following equipment:
Goggles
Your most important and essential piece of equipment. The face mask must bi either a goggle covering a minimum of the eyes and face, fastened around the head with a band or the 'peanut shell' full head mask offering a complete protection of the entire face and back of head. There are various models in use throughout Australia. The AUPBA recommends all children under the age of 16 be issued with the full head mask to offer additional protection.
Your face mask will be worn at all time during the paintball games unless you are in the "safe zone" of the base camp where no markers are present.
Hopper
The hopper contains the paintballs, and feeds them into the marker each time you fire a shot. You simply reload the hopper with additional paintballs when you need them.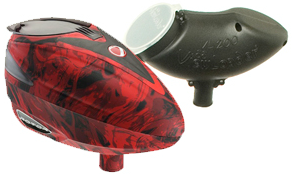 Marker
The particular model of marker may vary between different paintball centres but will generally be semi-automatic and velocity-tested to adhere to safety regulations. The most commonly used marker in Australia is the Tippman 98 or the more superior Mk II. Some paintball centres offer marker upgrades for those players wanting an added advantage over their opponents.
The propellant that allows the marker to fire the paintballs is a bottle of either CO2 gas or compressed air, which field staff will attach the marker before issuing to players. Recently, compressed air has become the most commonly used propellant. CO2 can be subject to changes in outside air temperatues whereas compressed air provides a more consistent and stable pressure, making this the more reliable option. It is also more environmentally friendly.
Gloves
Most centres have armoured gloves available for purchase or you can bring your own gloves to wear. This is personal preference – some people prefer to play without them as they find they can grip the gun better, whereas others prefer the added protection from potential shots to the hands.
Body armour

Particularly popular with females and the more nervous first-time players. Provides full protection of your chest and back and allows you to get right into the action without any concern for the sting of that first shot!
Battle packs
For the more trigger happy, this allows you to carry extra ammunition onto the field – so you can re-fill your hopper throughout the games and not miss a moment of action!
Overalls
Protective covering for your clothing, these may be either traditional army camouflage or black ninja style. You will usually also have a coloured arm band to identify and distinguish members of each team.